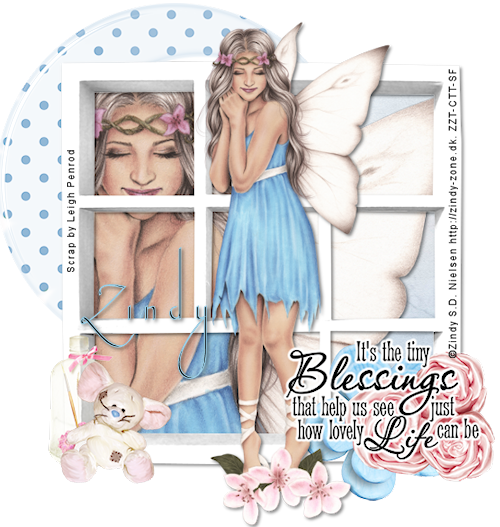 Tiny Blessings
This tutorial was written
by Sarah Fiack on
June 23, 2012
Any resemblance to another
tutorial is purely coincidental.
For this tutorial, I'm using a tube
by Zindy S.D. Nielsen. You can purchase
the tube at her
store
.
Supplies:
Tube of choice
Scrap of choice.
I'm using a kit called The Cottage Mouse
by Leigh Penrod. It is available at
Heartfelt Perfections
Shop
Wordart by
Create With TLC
Open a 600x600 new image.
Open up your tube, closeup & scrap supplies.
Note: I am using a page kit.
Due to this my resize amounts will be
larger. Please adjust if using a tagger size kit.
Choose a frame of choice.
Resize 50% twice.
Copy & paste as a new layer.
Use your selection tool &
select around the center of your frame.
Select a paper. Resize 17%.
Copy & paste the paper as a new layer.
Selections invert & press delete.
Move the paper layer under the frame layer
on your layer palette.
Paste your closeup layer between the two layers.
Position as wanted in the frame.
Press delete.
Select none.
Paste your main tube in center of
the tag.
Add a drop shadow to the close up, tube &
frame layers.
2,2,50,5 Black.
Open a roses cluster.
Resize 50% three times.
Paste on a bottom corner of the frame.
Open a single flower element.
Resize the flower 50% twice.
Paste underneath the roses layer.
You want the single flower petals to come
out from behind the roses on one side.
Open a glass bottle element.
Resize 50% four times.
Paste on the opposite side of the
flowers.
Open a circle doodle.
Resize 50% twice.
Paste on the bottom layer of the tag.
Position on the top corner of the tag.
Oepn a doll or stuff animal element.
Resize by 50% three times
Paste by the bottle element.
Open a wordart of choice.
For the wordart I am using,
Resize 50% twice & 80% once.
Add a gradient glow
Setting Fat glow width 3.00
Apply.
Merge layers visible.
Crop to desired size.
Add artist copyright information to the tag
along with name of choice.
Save as png.
Thanks for trying my tutorial.