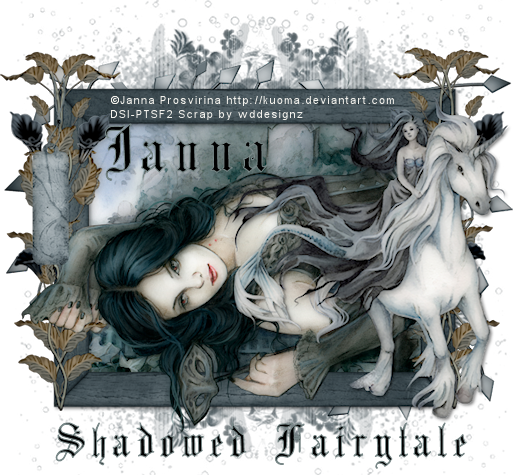 Shadowed Fairytale
This tutorial was written
by Sarah Fiack on
May 16,2012
Any resemblance to another
tutorial is purely coincidental.
For this tutorial, I'm using
a tube by Janna Prosvirina
You can purchase her tubes at
DAH
.
Supplies:
Tube of choice
Scrap of choice.
I am using one called lost in his heart.
The scrap is by Wddesignz.
You can purchase it at Whisprd Designz
Here
Trese Mask0043
Here
Plugin: Xero Porcelain
Open a 600x600 new image.
Open up your tubes & scrap supplies.
Choose a frame of choice.
Resize 80% & paste as new layer.
Click inside the frame with your
magic wand tool.
Selections modify expand by 5.
Paste the tube 1 image as new layer.
Selections invert & press delete.
Move the image layer under the frame layer.
Now paste tube 1 & line it up along the image.
Duplicate the tube once.
Move the copy layer to the top of
your layer palette.
On the original tube layer, press delete.
Select none.
Now on the tube copy layer, use your eraser
tool to erase the parts you don't want showing past
the frame. I erased the bottom part of the tube.
Add a drop shadow to the frame & original tube layers.
2,2,50,5 Black.
Open a tree branch element.
Resize 75%
Paste on the bottom layer of the tag.
With your 2nd tube, resize 80% & 85%.
Paste on the right side of your tag.
Add the earlier drop shadow to the tube layer.
Open a plant element.
Resize 70% & 85% once each.
Paste along both sides of the frame.
You do want these layers underneath your
tube layers.
Duplicate each plant layer.
Mirror & move back with the original layers that you
duplicated. You want two plants per side of the frame.
Open a hanging tag element.
Resize 50% & 70% once each.
Paste along the left side of the tag.
Paste a paper of choice as new layer on the bottom
layer of the tag.
Apply Trese Mask0043.
Merge group.
Merge layers together.
Apply Xero Porcelain.
Softness 73 Strength & Brightness 128
Apply.
Crop your tag as wanted.
Resize 88%,
Add any words or wordart which you would like.
Add artist copyright info & name.
Save as png.
Thanks for trying my tutorial.