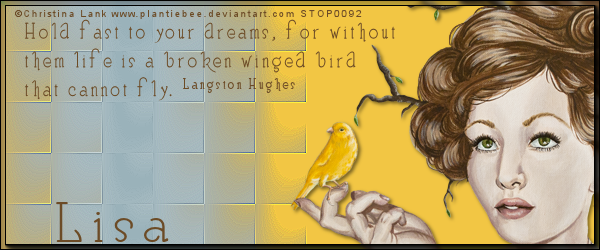 Hold Fast
This tutorial was written
by Sarah Fiack on
May 1,2012
Any resemblance to another
tutorial is purely coincidental.
I am using a tube by Christina Lank.
You can purchase this tube at
PSPTUBESTOP
Supplies:
Tube of choice
Plugins Filer Factory E Perfrorator 1
VM Distortion Gear
Open a 600x250 new image.
Open up your tube of choice.
Add a new raster layer to
the new image.
Fill with a color of choice
from the tube. I am using
a muted blue-grey color.
Add another raster layer
& fill with a 2nd brighter
color from your tube.
I used a yellow for this
color.
Paste your tube of choice.
Position on the tag along
the right side.
Add a drop shadow to the
tube.
2,2,50, 5 Black.
Make sure the 2nd color
layer is selected on your
layer palette.
Apply the plugin Filer Factory E
Perfrorator 1 Default settings.
Still on the yellow layer,
apply VM Distortion Gear
Default settings.
Effects -Edge Effects -Enhance
Add a quote or wordart of choice
to the tag. I added a quote on the
opposite side of the tube side.
Convert to raster.
Merge layers visible.
Apply the plugin AAA Frame Foto Frame
Width set to 5
Add artist copyright information & name.
Save as png.
Thanks for trying my tutorial.